All of us from the "Classic Drum Corps Era" aka pre-DCI, learned and honed our craft, we are in debt to those institutions that made drum corps affordable. (I.e. Churches, AL and VFW Posts, Boy Scouts Troops, Police Athlete League (PAL), etc)
A letter written by one of the mentors in my life, (the late) Carman Cluna, is a reminder to us all of what the drum and bugle corps activity should be doing and how profited he was in making his statements almost some 20 yrs ago. The reason/mission why the drum corps activity was created in the first place to keep kids out of trouble. (To teach them discipline, how to work together as a unit, and to give kids with NO musical background whatsoever a chance to discover the joy of playing a musical instrument, precision marching and maneuvering, utilizing a color guard with an American Flag section to instill the concept of a community/nation relationship all within a paramilitary frame work.)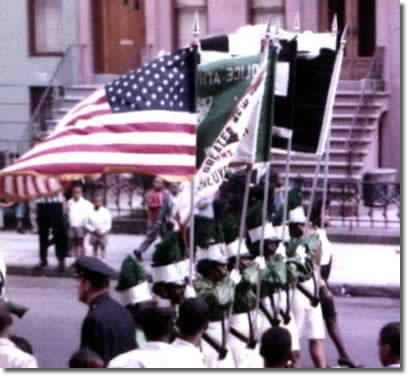 (P.A.L. Cadets photo courtesy of Harold Barber)
We do not see anyone of these concepts prevalent in today's approach to our activity, in fact is has gone 180 degrees in the opposite direction from the mission of the past.
My own humble beginnings in a drum corps began as a cymbal player, in a church's drum and glockenspiel corps. In 1966, a junior high school teacher, named Mr. Johnson, started a small drum and bugle corps in the school called the Decatur Cadets. Mr. Johnson's vision was to teach us the values, moreover it helped to keep us in an activity that would eventually build our self-esteem and thereby kept us off the streets on those many hot mischievous summer nights.

I am now a teacher in a New York City elementary school. I teach kids with no musical background how to play drums. The auditions are always packed and each year I have a full drum line. I teach them basic drum rudiments. It is a joy to see their incredible transformation.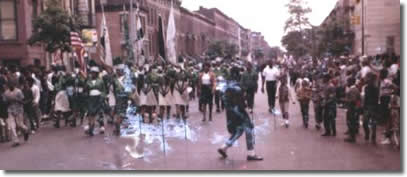 (P.A.L. Cadets photo courtesy of Harold Barber)
Local community supported with "local community populated" drum corps members can and must happen again, it is achievable, because I am doing it.
To conclude
In 1972, only a hand full of individuals (DCI Founders) got together to plot the course of the drum corps activity (primarily as a money making enterprise) and they made a difference. In 2005, it is still conceivable that a few individuals can get together and make difference.
We at the St. Joes/St. Rita's Brassmen web site wish to create a "spark" that will "unite a movement" resulting into action being taken and a stand being made.
What is your stand?
Click here to comment
Harold Craig Barber
New York City Public School Teacher
Drum Instructor
Former member St. Rita's Brassmen and New York Skyliners
One of the Original Founders of the www.stritasbrassmen.org web site