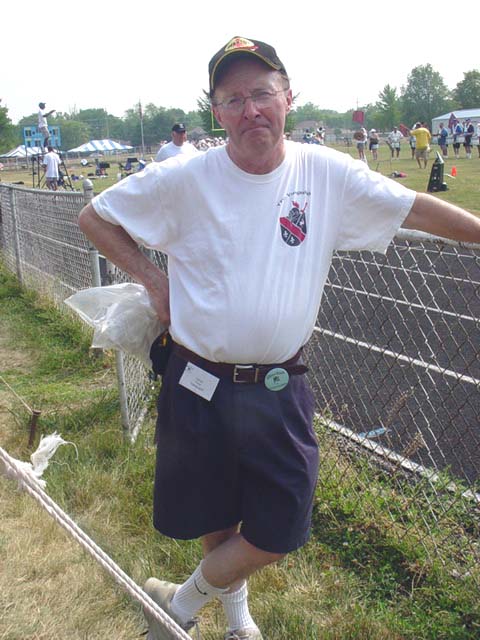 Glenn Purtell
(At Midwest Reunion, from the collection of Toni'O)
Here is a piece of memory, actually in two parts that you can use in your future Giles news articles if you wish. Consider the fact that I was eleven or twelve years of age when my recollection of Giles is now written - I'm 65 now, so my memory of this fine corps is thin but what I can remember is very clear and true.
"My first outstanding memory of Giles Yellow Jackets was during a parade which, I think was on the South side of Chicago,perhaps China Town area or something like that. We were on 'parade hold' which means many units in front had not taken off and we were stalled somewhere in the middle or rear of the pack. We began to fall into ranks when units started to move up front. In back of our Logan Square Corps (later to become the Vanguard) was the Giles Yellow Yackets uniformed in bright yellow satin tops and black trousers. Apparently, some of the Giles kids formed parade ranks slower than desired by Giles management and I recall a gentleman of disciplined nature approaching the slow moving kids with a firm military nature, pointing and shaking his finger with anger at the boys and with a loud voice telling them their actions would never again be tolerated. The kids receiving this firm discipline were younger than me, say 8, 9 whatever, but I was impressed by the seriousness of this great man who I'm, sure assisted in forming these little kids into fine adults later on in life. "
"My second recollection of Giles Yellow Jackets occurs a couple of years later. We (Logan Square / Vanguard) held a drum corps competition in Park Ridge Illinois. Giles was an invited corps and at the final reading of the scores during finale, the management of Giles and Logan Square decided to blend our two corps into one unit on the field and march off together - one Giles member - one Logan Square member next to each other. We all felt great - we broke new cultural ground without even thinking about it. Our two corps were always friendly before the Park Ridge contest so it was a natural thing to accomplish. Our Logan Square membership was always impressed by the Giles management team who came to us every now and then asking for suggestions on various methods of corps development. Considering that many of the Giles kids were very young and Logan Square had a lengthy string of championships with seasoned personnel with an average age of about 19 or 20 Giles was very eager to elevate their corps to championship caliber. I was always impressed with the Giles parents who were as dedicated as any corps mom and dad. Now isn't that fantastic!!"
Logan Square / Mel Tierney/ Skokie Vanguard 1947 - 1959


12/16/4
Thanks for your return note on the brotherhood exercised by Logan Square and Giles Yellow Jackets. Our Logan Square Management gathered with Giles Management at this 1952 event and said "hey why don't we ..." and we performed a display of friendship not recognized in our society during that period of time, so we "broke new ground". Our two corps were always good friends - we cheered for each other on the sidelines.
Yes, this may have paved the way for many great guys (McClellan bros.) and gals who funneled over from Giles to the Vanguard in later years making Vanguard a great corps.
Glenn Purtell
12/16/4
This attached newspaper article has historical purposes as it was the July 4th exhibition in Park Ridge, Illinois with several corps in attendance that Logan Square and Giles Yellow Jackets merged and marched off the field - one member from Giles - one member from Logan and so on. At this point in time, Logan and Giles knocked down some barriers that I'm proud of till this day!
Glenn Purtell
In the photo below, this maneuver was entitled "The Hackensack" presumably from an eastern Corps named Captain Harry B. Doremus Post #118 from Hackensack, New Jersey. When Logan Square members and management witnessed the 'hackensack' at Nationals Finals competition around the 1948-49 era, it was deemed necessary to create our own version. Drill designer Carl Shaw and others drafted a routine using measured step counts, 45, 90 and 180 degree military maneuvers which spread everyone out across the field allowing the Corps to form up either where you left off or completely in another area of the field but remaining with your bugle squad/drum section. If you study the photograph you'll view the pattern and how it was laid out. To the crowd it appeared as total chaos and drew a large cheer from the fans. One slap from the snares, bass drums and cymbals and everyone amazingly snapped into the assigned squad position ... WaaLaaaa !!

Of real interest to me are our good friends from Giles Yellow Jackets who appear at the bottom right of this photograph. Giles routinely cheered for us at our shows - we did likewise for them. GO YELLOW JACKETS!!
Regards, Glenn Purtell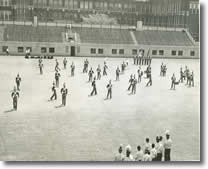 Giles Members (lower right) supporting Logan Square at Lane Tech. From the collection of Ed Reimer submitted by Bill O'Connell (Vanguard)
November 26, 2004
Note to John McClellan ...
Thanks much for your contribution to the Vanguard Corps and our other Giles members who strengthened our corps when they joined also. What great memories at Lane Tech Stadium eh??
Regards, Glenn Purtell